Introducing Michael's Latest Novel. . .Erin's Daughters (2018) a story about a young woman determined to live free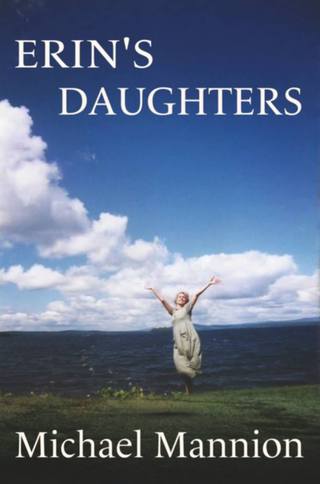 In 1943, Colleen Murphy was born at night, during the era of wartime blackouts, into a conservative, Irish-American Catholic family in The Bronx. Her mother knew immediately that this baby was different. And it worried her. From the start, Colleen was observant, curious, searching. She had a sparkling glow about her. In her teen years, she yearned to break free, to be independent, to love and be loved. In 1959, she became pregnant at age 16. Only her beloved grandmother stood by her.
Colleen was never a "rebel without a cause." She struggled to understand who she was and what Life was all about. In the freedom of the 1960s, she created a new life for herself and her daughter. Colleen moved to California, and was part of the revolutionary changes in personal and social life brought on by the counter culture. But in the early 1970s, the United States took a sharp turn to the right. Many of the advances of The 60s did not survive. It was a period of profound difficulty for Colleen. She left California and returned to New York City, discouraged, lost. Those who loved her deeply worried about her. They did not know if Colleen would survive…neither did she. This is her story.
HERE'S WHAT READERS ARE SAYING ABOUT ERIN'S DAUGHTERS. . .
"A lyrical tale of struggle and redemption spanning generations of an Irish clan from the Auld Sod to the Gaelic Bronx, enriched by Michael Mannion's spiritual insights and acute sense of place."
--Ralph Blumenthal - Author, Investigative Journalist
"A well-written emotional story of a young woman's growth over a long and interesting period. Highly recommended."
--Julian Schlossberg, Theatrical Producer; Winner of 6 Tony Awards; 2 Obie Awards
"Erin's Daughters is a marvelous book that absolutely entranced me."
--Writer and Actor Malachy McCourt
"Wonderful book! A must read. I loved it and give it five stars!"
Such an amazing book. Very well written and always moving forward. I became very connected, then generally worried about the heroine Colleen, because of the novel's harrowing portrayal of her struggle with alcohol, which fortunately ends on a hopeful note. The scenes throughout the book are vivid thanks to smooth and thorough descriptions of time and space.
--Amazon reader
"Held my breath waiting to learn what happens to this heroine!"
A detailed and excellently written exploration of one woman's journey, both physically and emotionally. I couldn't put it down!
--Amazon Reader
"Got absorbed quickly, and written so you feel like you "know" the characters. When is the movie?"
--Amazon Reader